Organizations on Yapla can be managed by organization administrators. However, they should not be confused with the Yapla account administrators.
The role of an organization administrator is to add or remove members from an organization. It is also possible to have several administrators per organization.
Administrators are not to be confused with the
representatives
who are the people in charge of the organization.
Adding administrators
If the organization is created by a member via its Member Area, its creator automatically becomes its "Administrator". He will therefore be able, from his profile, to modify his organization's information, to consult its members, as well as to add or remove a member.
If you have directly created your organization via the Yapla back office, by default, no administrator is assigned to it. You can easily add one via the "organization form".
Adding administrators via Yapla
Whether the organization already has an administrator or does not yet have one, it is possible to configure it via the Yapla Platform.
To do so, go to the organization's form. In the form, the Organization administrators section allows you to view existing administrators as well as add new ones. Simply click on Add Administrators to select one or more members who are already part of the organization.
Warning! Only the members already belonging to the organization will be displayed in the search results to add an administrator.

Adding administrators by an existing administrator via the Member Area
You can also allow existing administrators to grant administrator status to members who are already part of their organization.
To allow them to do so, go to the configuration of the Member Space module from the "Website" application. In the "Activating functions of the member area" section, check the box allowing administrators to assign administrators to their organization.

Once the function is activated, members of organizations will be able to be added as administrators directly from the list of organization members in the Member Space.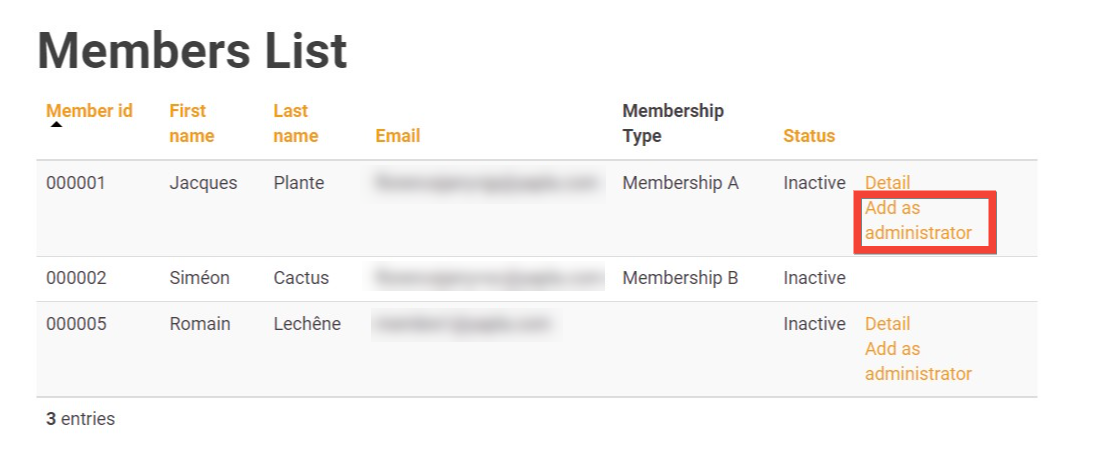 They may also be removed from the list of administrators by the other administrators.