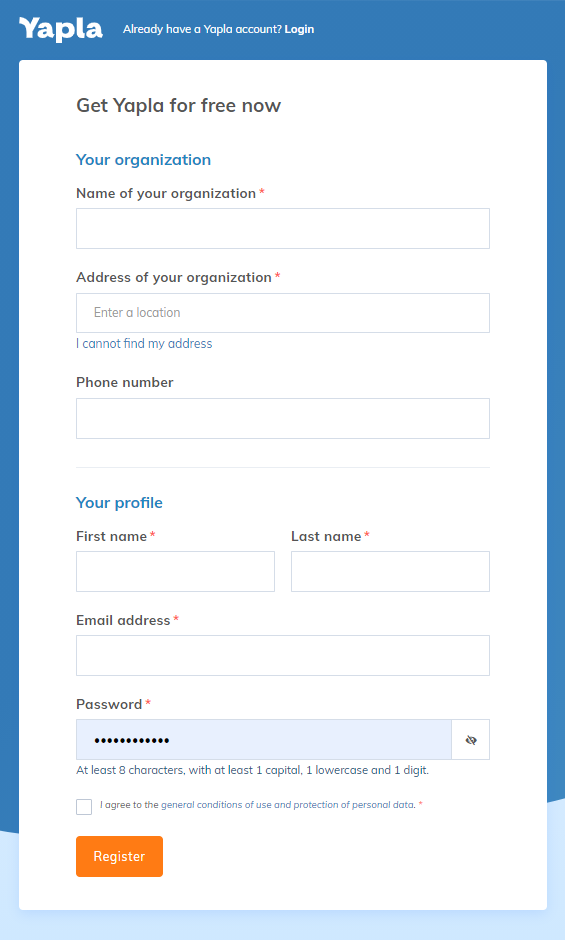 Then provide your account administrator's details. After reading and accepting the general terms of use and privacy policy, click on Open my free account.
The administrator can log into the Yapla platform using the information provided. An administrator is a person who manages the Yapla account and its applications. Administrators can configure the platform to their liking, add or remove users, and limit users' access privileges.
Complete the form with your name, organization's name, phone number (optional), email address, and a password of your choosing.
You will then be taken directly to your dashboard where you can start discovering Yapla's different applications and configure them based on your organization's needs.
You will be automatically logged into your account where you must complete your organization's profile and configure the languages in which you work.
You will receive an email confirming that your account has been created, along with your login information.
If you would like to deactivate your paid account, please visit our online help centre for more information.
You're now ready to configure the applications you need to manage your organization.
See the list of features of the Yapla Platform.
Frequently asked questions
I already have a Yapla account. Can I create a second one for another organization?
You can create as many accounts as you want. However, if you want to use the same email address, you will have to confirm your password for security reasons.