Yapla offers 2 types of groups to classify or assign rights to your contacts. "System groups" are automatically assigned according to the contact's activity (membership, event registration, donation, etc). "Custom groups" can be assigned manually, either via the member or contact's administration file, or by the contact himself, via a form.
Allowing a member or a contact to choose his own groups can be used in several cases:
Before you begin
Make sure groups are enabled in your account and that you have created the Custom Groups you will need.
Creating the field
The field is available in the Members and Contacts applications. When creating the field, choose the "Groups" type.

You will then be able to choose the groups that will be available as well as the number of responses that the member or contact can select (one or more).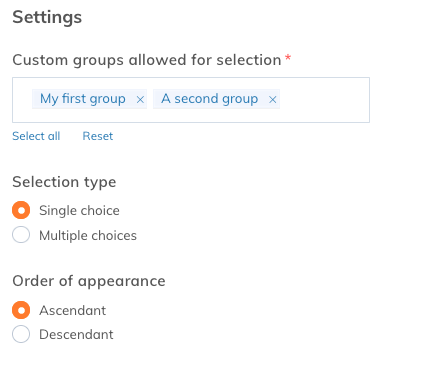 Once you have created your field, all you have to do is add it to your form.
How it works on the website
Depending on the form(s) in which the field was added, members or contacts will be able to fill in their choice once or update it when renewing their membership, or even in their Member Space. The selected groups will automatically modify their access or contact lists in the newsletter.

To go further