En fonction de l'utilisation des objets dans Données, il est parfois nécessaire d'ajouter certains destinataires en copie de vos communications.
Depending on the setting of your Data's objects, it is sometimes necessary to add certain recipients as copies communications.
Configuration
To have access to the option you must have at least one custom field of type Email.
When configuring a communication, in the Target recipients section, you need to check the Recipient based on a form field box.
Once checked, a multiple choice box will be visible. In this field you will be able to select all the "Email" type fields you'd like to use.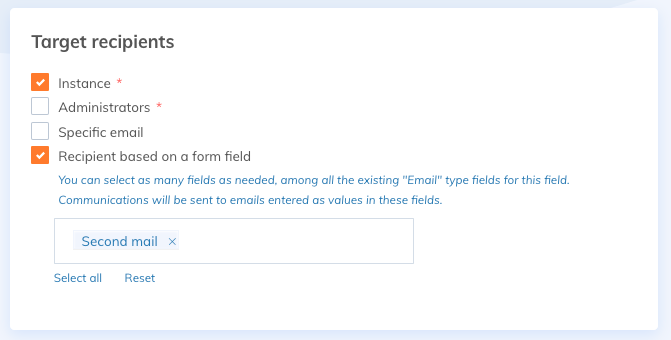 What happens if I enable this feature?
If you check this option for a communication with the Instance field, both address will receive the message : the instance's main mail and the second email, if this field has been filled.