The use of a scan, available from the Orbite plan, allows you to quickly validate your participants' registrations. The barcode can be added on an electronic ticket, a personalized document or even directly in a communication. This barcode can be added via the Registrations - Barcode keyword, which will create a unique code for each participant.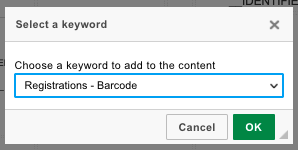 To scan your attendees' tickets, you'll need to have them enabled in your event, and have a phone, tablet or computer with a camera connected to your Yapla account.
In your event, click on the Online tickets tile, and then click on the Scan submenu.
Here you will be able to choose the action to perform when scanning:
View attendee information: will display a window with the attendee's record

Confirm attendance (with validation): will display a window with the participant's record. You will have to click on Confirm Attendance for the participant to be marked as Present.

Confirm attendance (without validation): will automatically mark the participant's presence.
By clicking on Start, the camera of your device will be activated. Place the document or communication in front of it and make sure the barcode is in focus (if the barcode is in a phone, it may be necessary to zoom in a little). Note that the application will manage to scan a barcode that is displayed vertically.
If you can't scan the barcode, you can also use the manual input field. The number to enter in this field corresponds to the keyword ID code and is also displayed on the native tickets. Enter the code in the field provided and press Enter.