By default, registration managers and event participants can edit registration information by logging into their member area. However, it is possible to prevent members from modifying event participant information via the member area.
This option can be useful if, for example, you organize an event where the name of the participants must be fixed (printing lists, cards, etc.). This option allows you to freeze the list of event participants.
Where to configure the registration management?
First go to the "Events" application and select your event from the list. Choose the "Settings" tile.

Choose the "Process" tab and the "Identification and Recruitment" section.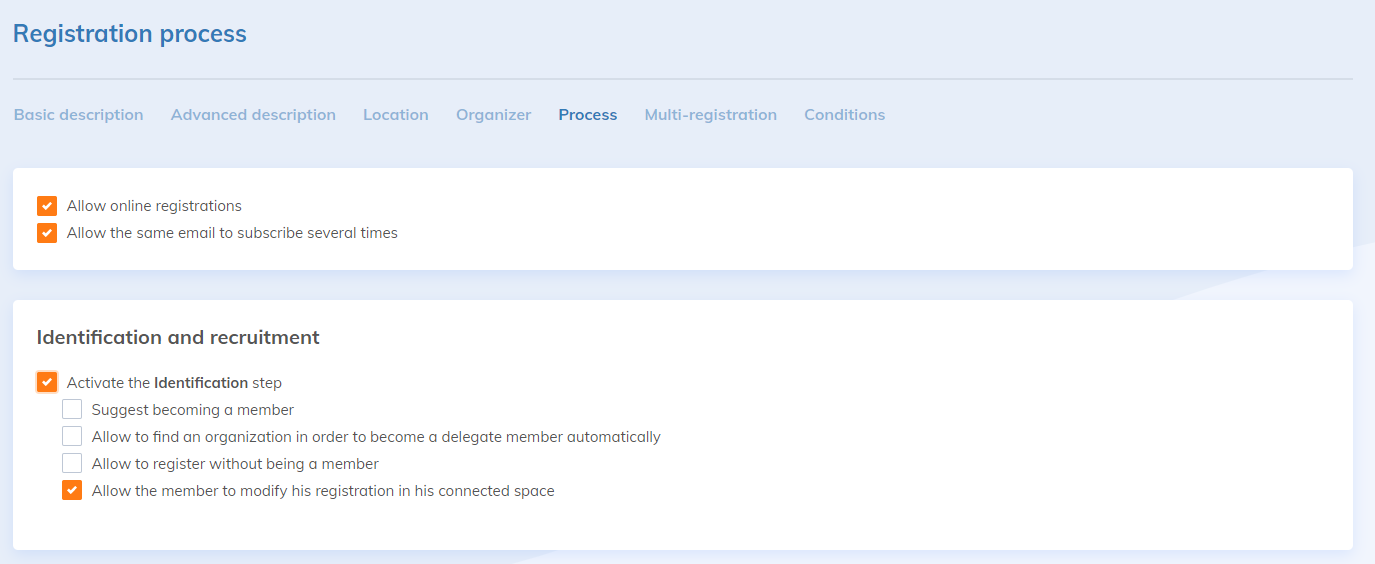 Prevent changes to registrations in the Member Area
To prevent the modification of registrations via the website, simply uncheck the box "Allow the member to modify his registration in his connected space".

Once the checkbox is unchecked, the "Edit" button will no longer appear in the member area of the participant or registration manager. The member cannot modify the information once the registration is completed.

You can check the box again at any time to allow members to modify their participant information via their member area. Once the box is checked, the "edit" button will automatically appear on the registration page in the member area.

Go further
Configure the member area
The member area contains multiple features including the "My Events" tab. Configure it according to your needs.
For more information, please consult the complete article at the following link: Member area
Configure rates specific to multi-registration
Multi-registration allows a registration manager to register several people under the same invoice. It is possible to configure the different rates offered for multi-registration.
For more information, please consult the complete article at the following link: Controlling rates offered for additional registrations