Yapla's "Event" application allows a participant to purchase tickets by registering multiple people in a single order. For example, an organization manager can purchase multiple tickets and invite employees of the organization or other guests who are not part of the organization.
A list of all contacts or members who have already participated in an event can be provided to registration managers to speed up the registration process.
When the registration managers add their guests, they can search for additional participants previously registered by any member of the organization. This means that they can find a recurring participant, whether or not they are from the member organization. This contact information will be automatically filled in the registration form.
Where to configure the addition of a recurring participant to a registration?
First choose your event in the "Event" application and click on the "Settings" tile.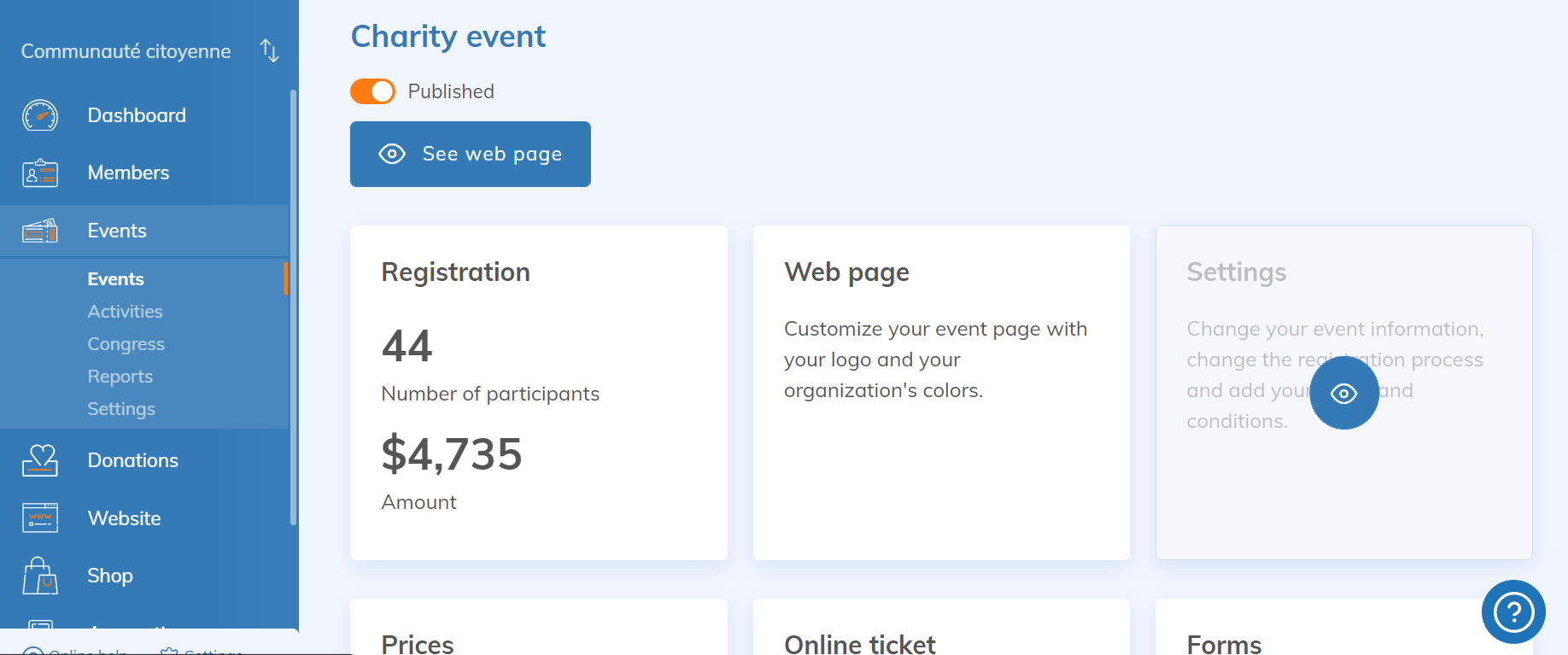 Then choose the "Multi-Registration" tab and the "Participant registration help system" section.

(Events > Event Name > Configuration > Multi-Registration)
Suggest the list of members or contacts from the organization in the registration form
In the "Participant Registration Help System" section, check the box that applies to you:

Make no proposal: no list is available to the registration officer.

Suggest the list of members from the organization of the registration manager: The registration manager has access to a list which proposes only the members of his organization.

Suggest the list of all the contacts in the organization of the registration manager: The registration manager has access to a list that proposes members of his organization as well as participants of previous events who are not members.
Addition of participants by a registration manager
When a Registration Manager purchases tickets on your event's web page, he or she can now search for contacts at the registration stage. The list varies depending on the configuration of your event.

The system searches through all contacts of participants previously registered by members of the Registration Manager's organization.
When a participant or delegate is selected from the search list, certain registration fields are pre-filled, based on information given during a previous registration.
This allows, for example, information such as contact information or allergies of an additional participant who has already attended a previous event to be pre-filled.
Go further
How the registration manager mode works
Find out how to set up your event so that a registration manager can register multiple people on his or her behalf, whether or not he or she is attending the event.
For more information, please see the full article at the following link:
How the registration manager mode works
Frequently Asked Questions
Why doesn't the list appear on the registration form even though I checked the box?
In order for a registration manager to select a guest from the list of already registered participants, he or she must be logged in to his or her member area and must be part of an organization.