Why do you need to authenticate your Yapla account?
You have just created your Yapla account: first of all, thank you for your trust!
In order to receive payments on the Internet, regardless of the platform used, you need authentication or what is also called a KYC (Know Your Customer). The KYC, which is required by law, helps to prevent money laundering and the financing of terrorism, among other things.
Any person or organization that receives payments via the Internet must prove their identity. This is why certain documents such as the social insurance number and a photo of the driving license are required. This information is of course secure.
In short, authentication of your account is necessary for the following reasons:

to comply with Canadian and international laws,
allow us to verify the identity of the persons administering the account,
ensure the security of your payments,
allow us to transfer the money collected to your Yapla account every 15 days.
Please note: The authentication process is not done once. Information may be requested from you over time depending on the use of your account and the documents provided.
An unauthenticated Yapla account may be suspended from receiving payments after a certain period of time. In addition, it is impossible for us to return the money collected to you without valid (KYC) authentication.
How to authenticate your account
1. Access your authentication area
Go to Configuration > Authentication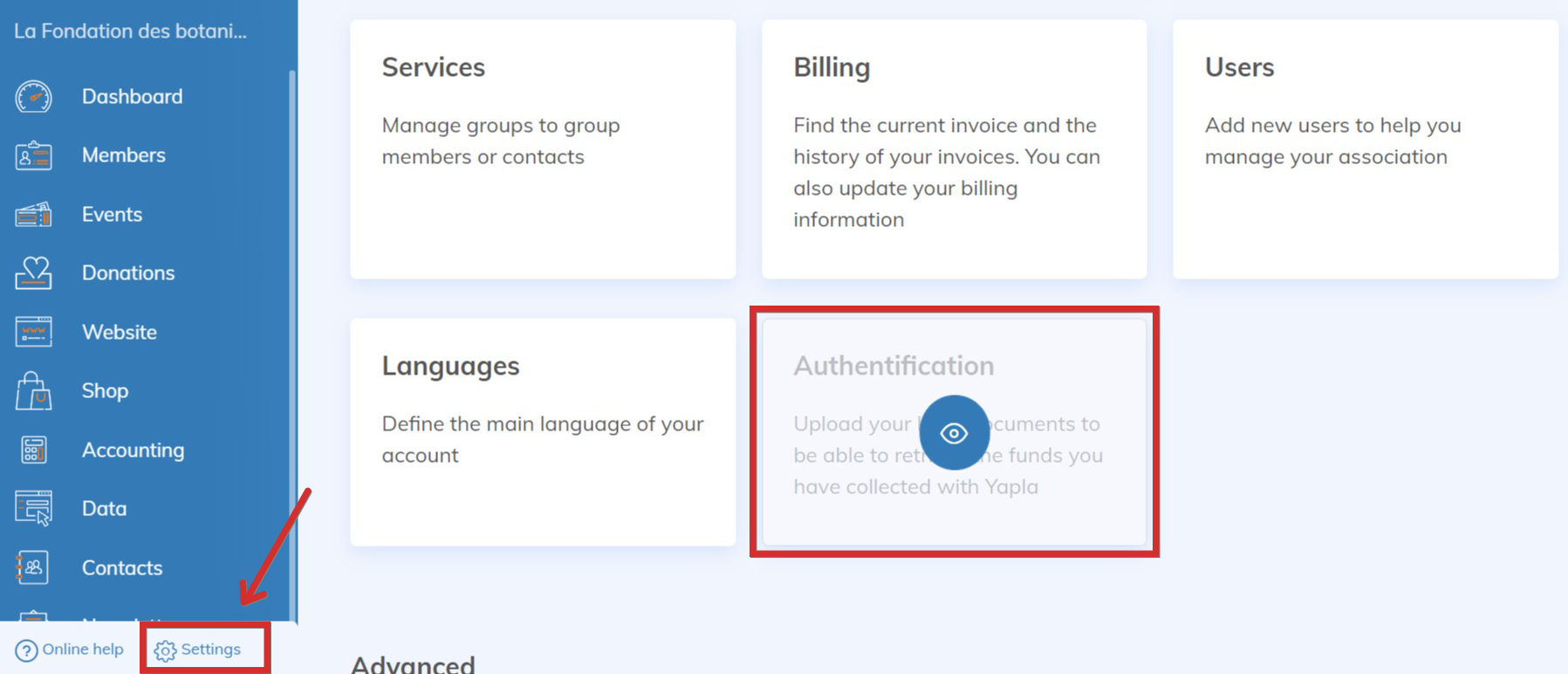 2. Complete all steps of the authentication process
Authentication is done in two steps:
Entering bank information: information about the bank account to which you wish to transfer the funds collected in Yapla. Click Next Step once you have completed the entry.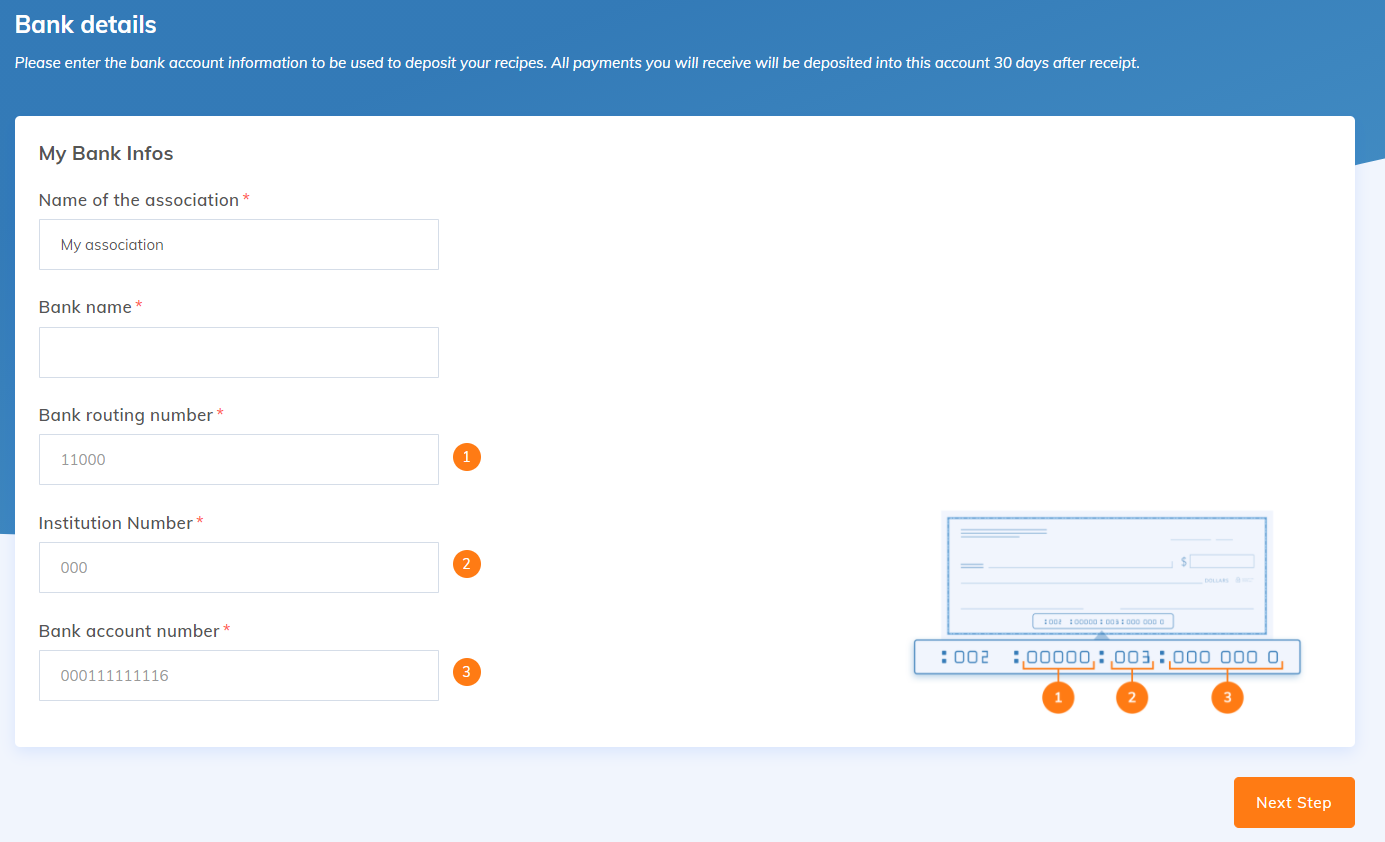 Additional information (via our partner Stripe) : in order to complete the process, click on Complete my authentication to provide the necessary additional information. You will be momentarily redirected to our partner Stripe.

In this new screen, you will be asked to provide information about your company and the account representative. You can update this information immediately, or complete the process and come back later.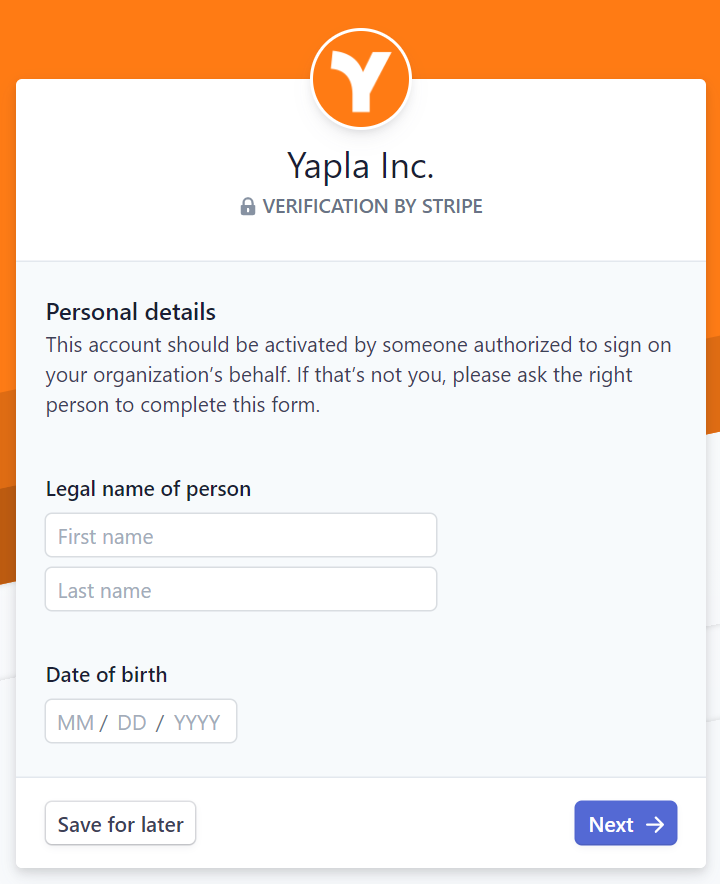 Here is the list of additional information you will need to provide:
Business Number (BN) - This is a 9-digit number, also known as the IDE. You can apply for this number from the Government of Canada. Please note that the NEQ (10-digit number) is not accepted.
Full company address
Account Representative - the responsible person who could be contacted in case of problems. This person does not need to be the holder of your bank account.
Representative's Date of Birth, Social Insurance Number and ID - This information will be used to verify your identity to prevent fraud.
Note: In order not to risk blocking payments via the Yapla payment method, it is advisable to enter the requested information quickly and thoroughly.
3. Use Yapla to manage your association!
Just enjoy Yapla's applications and save time in the management of your association :-)
Receive payments via memberships, event registrations or donations, which can be paid out on the 15th and 30th of the month as soon as your account is authenticated.
Track your authentication: you will be informed by email as soon as your authentication is validated by our partner. Similarly, if your account is limited by our partner due to a lack of valid authentication, you will be notified.