If you have recurring donations or donors who give regularly to a campaign, you can consolidate all donations received at the end of the fiscal year to send your donors a single receipt rather than one for each donation.
Configuration by campaign
For a donation to be part of a consolidated receipt, it must meet 2 criteria:
Be admissible to a receipt

Do not have a receipt already generated
For both of these criteria, be sure to go to the Donation receipts / Configuration menu of your campaign.

Check the minimum amount required as well as the management of the receipts configuration. Make sure you manage receipts manually.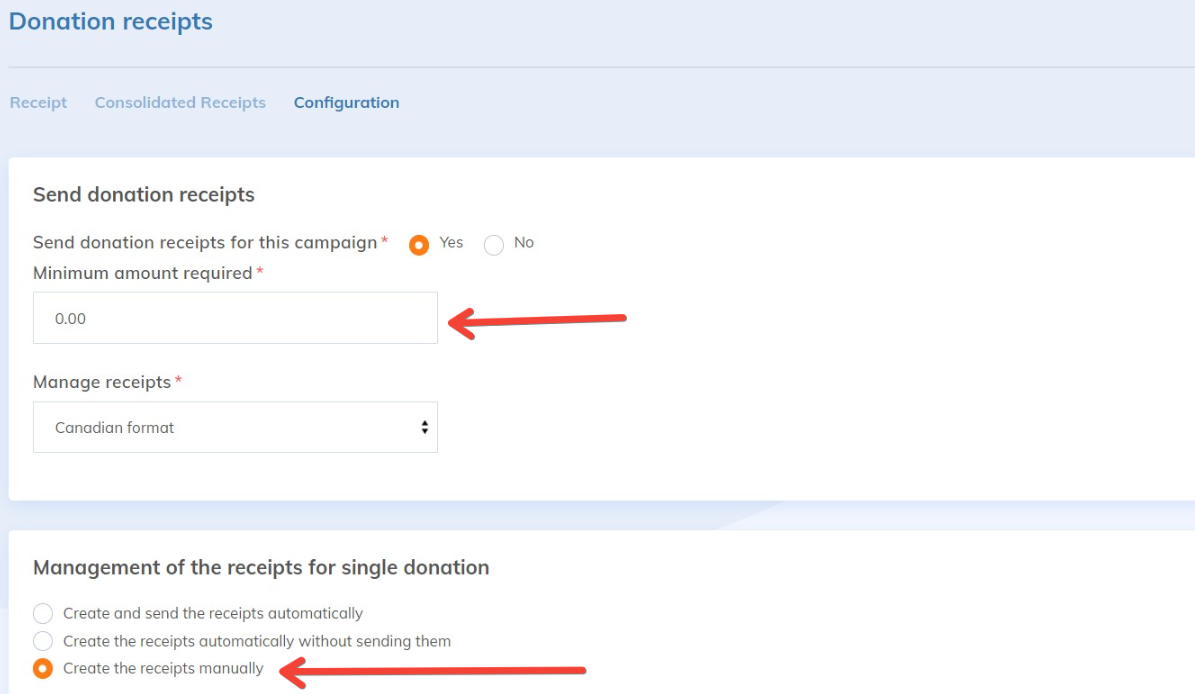 Consolidation of receipts
At the start of the year, when all your donations from the previous year have been entered in Yapla, open your campaign and then click on the Donation receipts / Consolidated receipts menu.
Select the year to consolidate and click on the Search button. You will then see an overview of the receipts that will be consolidated.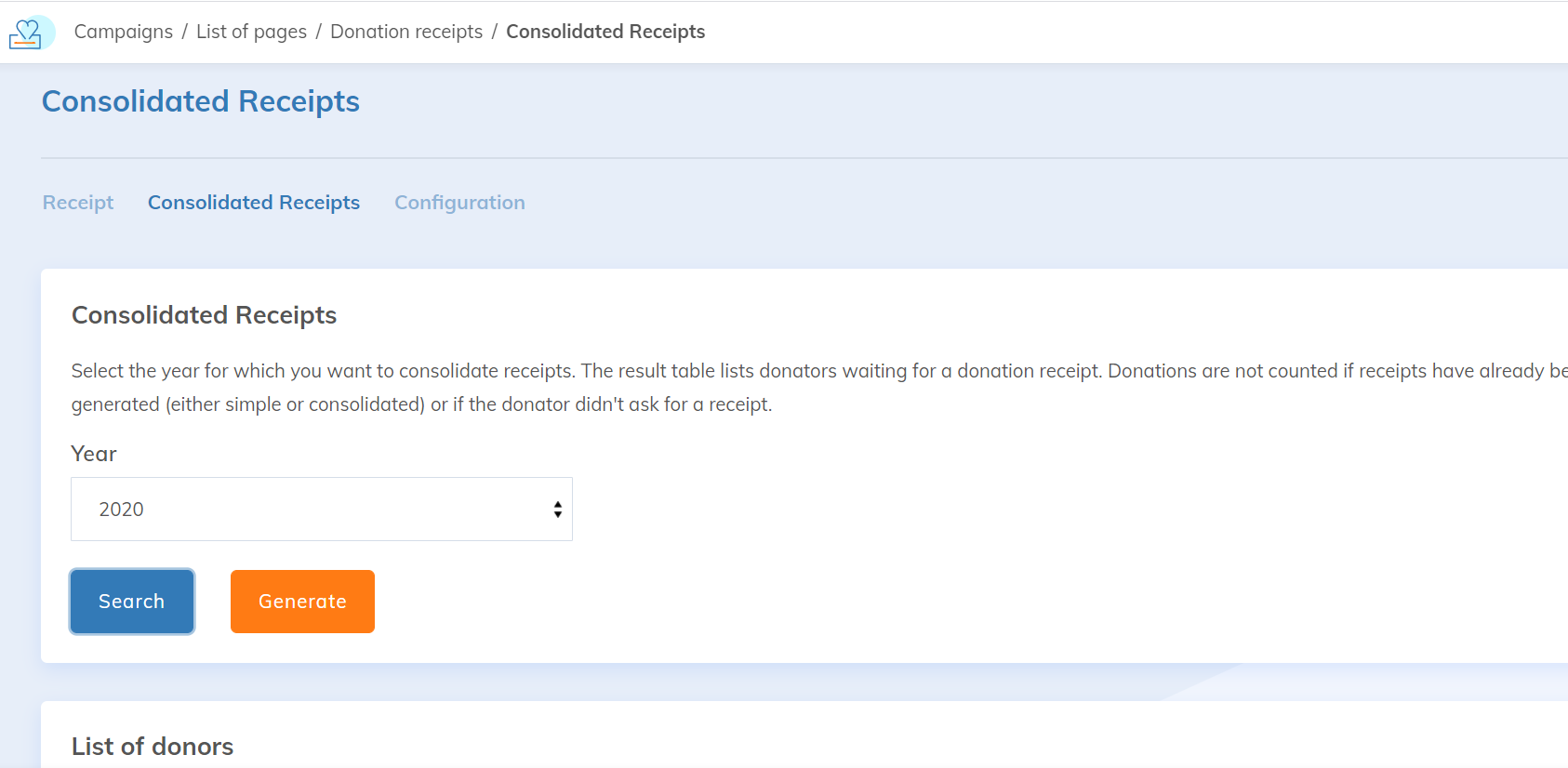 If you see something abnormal, for example a donor who has used 2 different email addresses and therefore appears twice in the list, go and edit the donations concerned, then repeat this step.
The list presents donors who have made multiple donations. You can see the total amount and number of donations.

When you are satisfied with everything, click on the "Generate" button.
Confirm the generation of donation consolidations to continue.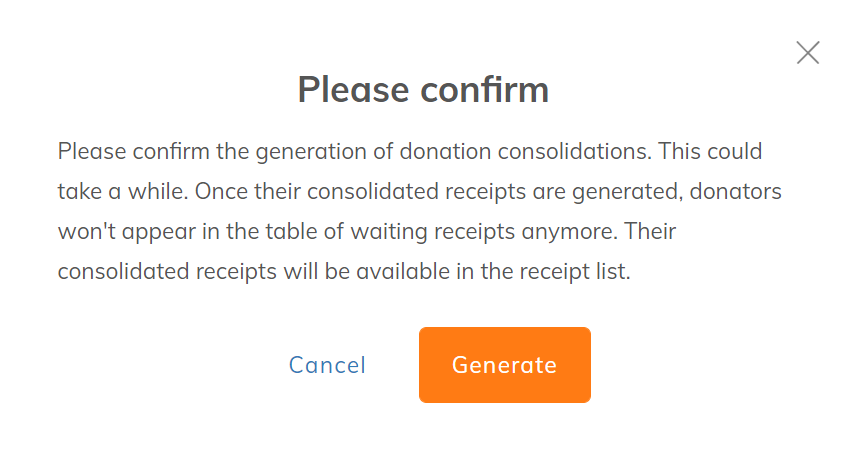 The consolidation could take a few minutes. Once the consolidation is complete, the receipts will appear in the list of receipts with the status Consolidated.

If you view one of the receipts, you will be able to see the list of donations included in the latter.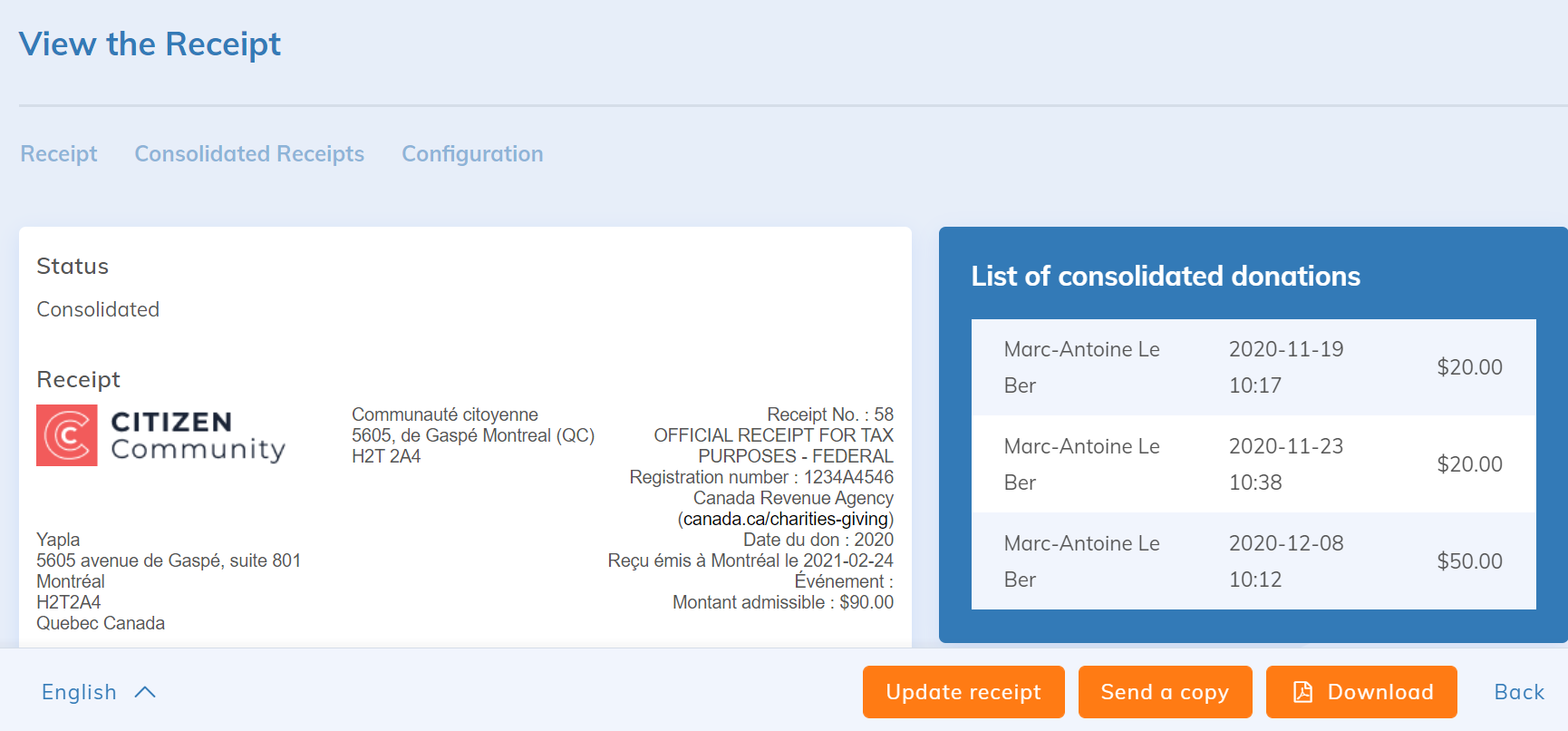 Frequently Asked Questions
Is it possible to combine one-time donations and recurring donations in consolidated receipts?
Yes. When consolidating, all campaign donations for which receipts have not yet been issued will be taken into account, using the donor's email address. If the latter has only one eligible donation, a consolidated receipt will still be issued.
Can I add donations after consolidating my receipts?
You can repeat the consolidation as many times as you want. However, only donations whose receipt has not yet been issued will be taken into account, so a donor could receive a 2nd receipt if you add new donations.
When will the consolidated receipt be sent to my donors?
Once your receipts are consolidated, the "Issuance of a receipt" communication will be sent directly to your donors. It is important to review the content of this communication before consolidating your receipts, specifying the year covered by the receipts.