Yapla allows you to categorize your articles and assign keywords to them in order to organize and filter their display on your website pages, for example in the Featured Articles module.
Manage the organization of your articles in the Settings tab of the Website application. There you can configure your categories and keywords.

Create and modify categories or keywords of articles
The following procedure illustrates only the configuration of the categories, but the keywords follow the same principles.
Create a new category
In the Categories menu (Website > Settings > Categories), you can create new categories by clicking

.
Simply enter the name of the category and, optionally, associate custom groups to it.

Edit or delete an existing category
This page also allows you to view the list of your existing categories, to delete or modify them.
To do so, click on

an existing category and then select the desired action.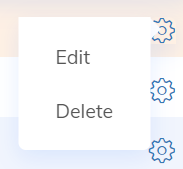 It is now possible to organize your articles!