With Yapla, you can easily create member profiles for both individuals and organizations. Yapla centralizes your members' information, memberships, and notes for easy consultation. With a single click, you can download all of the reports you need.
Where to create a membership campaign
To create a membership campaign, click on the tile Manage members that you'll see directly on your Dashboard.

Create your membership campaign by following this quick 3-step process.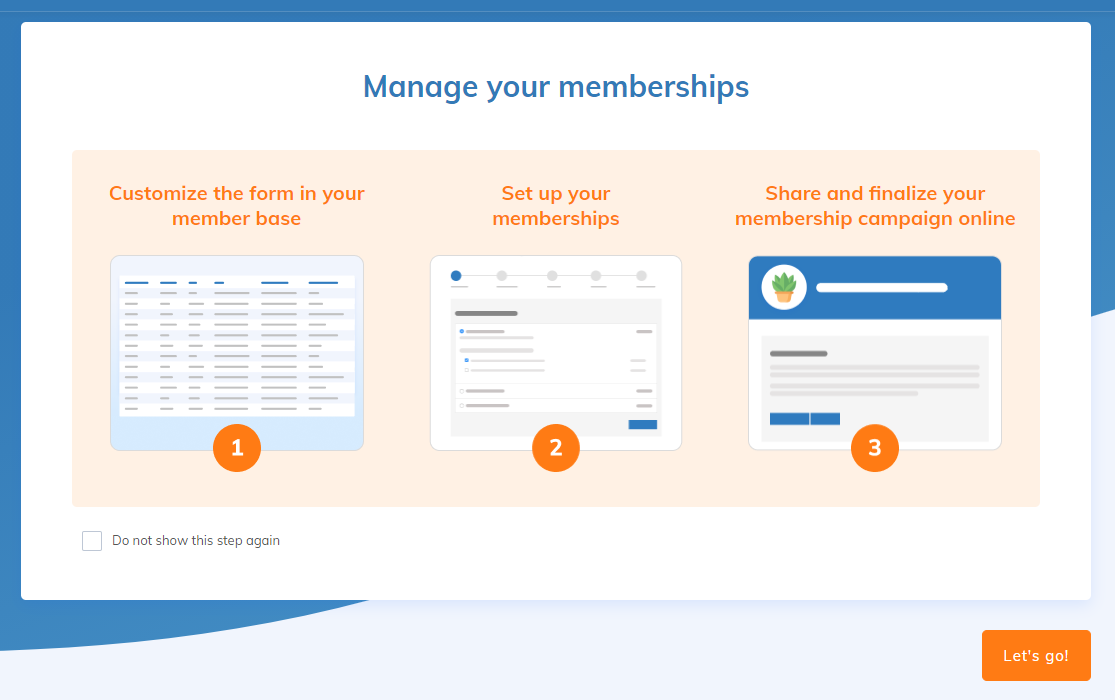 Personalize your member form
Start by personalizing your membership form. This is the information that a member must provide when applying. The information collected on this form can be accessed in your member database in the Yapla Members application.
Yapla offers a range of fields that you can use as you need them. If you need different fields, you can create as many as you need and add them to your form.
Here are the options available to you:
1: modify or remove a field from the form being created
2: create a new field that is not already available in the dropdown list above
3: drag and drop a field to add it to your form
4: drag and drop a field to move it to a new location in your form
5: organize the structure of your form by adding sections to it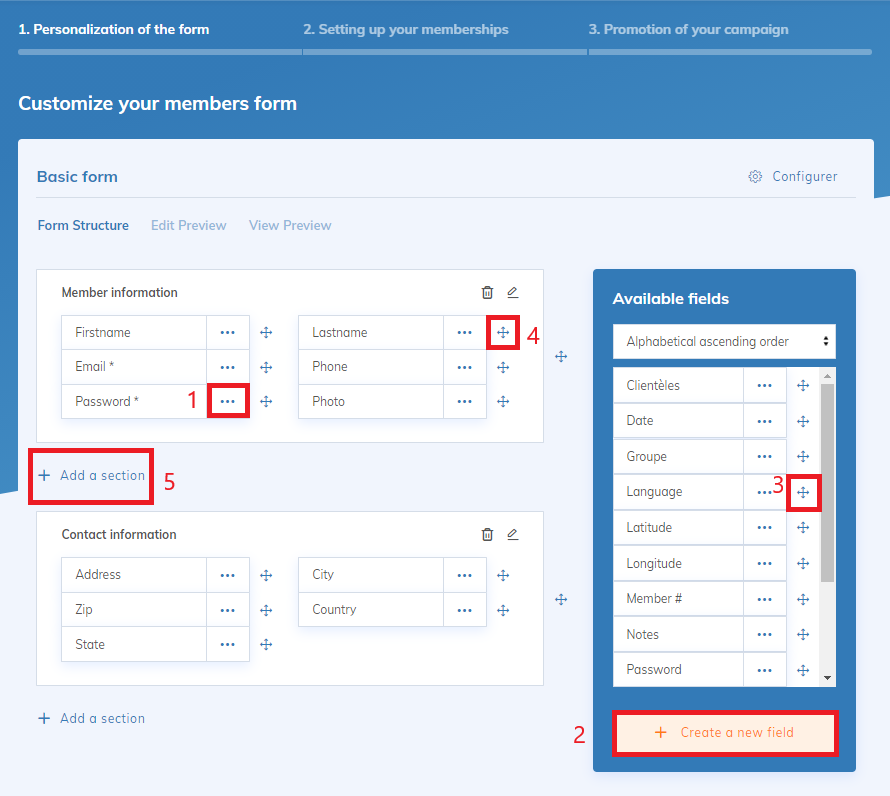 Configure your memberships
Here you will create the types of memberships you will offer to your members.
Create a membership type

Start by entering the membership name

You can then configure your membership:
Start by adding a description.

Then configure the duration and date

The adhesion period can be constant or floating:
Floating date: starts at the time of payment
Calendar year: January to December
School year: September to August
Custom: choose the start date of the period
Then set the membership price:

By default the membership is free. Tick the box "Paid" to add a price to the membership
For floating date memberships, you can allow your members to change the price by defining a minimum price.

For constant period memberships (calendar year, school year, custom), you can set a fixed or decreasing prices based on the membership date. You can choose to offer lower prices if a member joins during the year for example.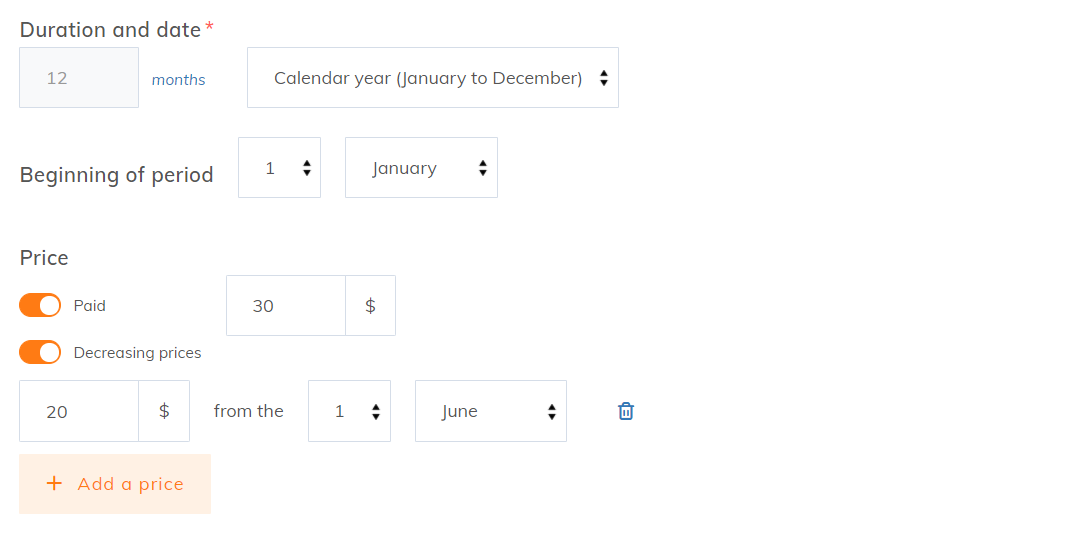 If the membership period is constant (calendar year, school year, personalized), you can also propose one or two more years for an additional price, which can be lower than the current membership price:

Finally, configure the membership renewal behavior:
For floating date memberships, choose whether the membership renewal starts the day after the expiration date or the day of the renewal transaction by the member.

For constant period memberships (calendar year, school year, custom), specify a fixed renewal date.

Once the membership type is set up, click Save.
You can create multiple membership types.
You can then change your configurations at any time from the Members Application. More configurations are also available when editing membership types in the Members Application's Settings.
Distribute your campaign
Your campaign is now online. You can view your page, modify it, or send it to your network!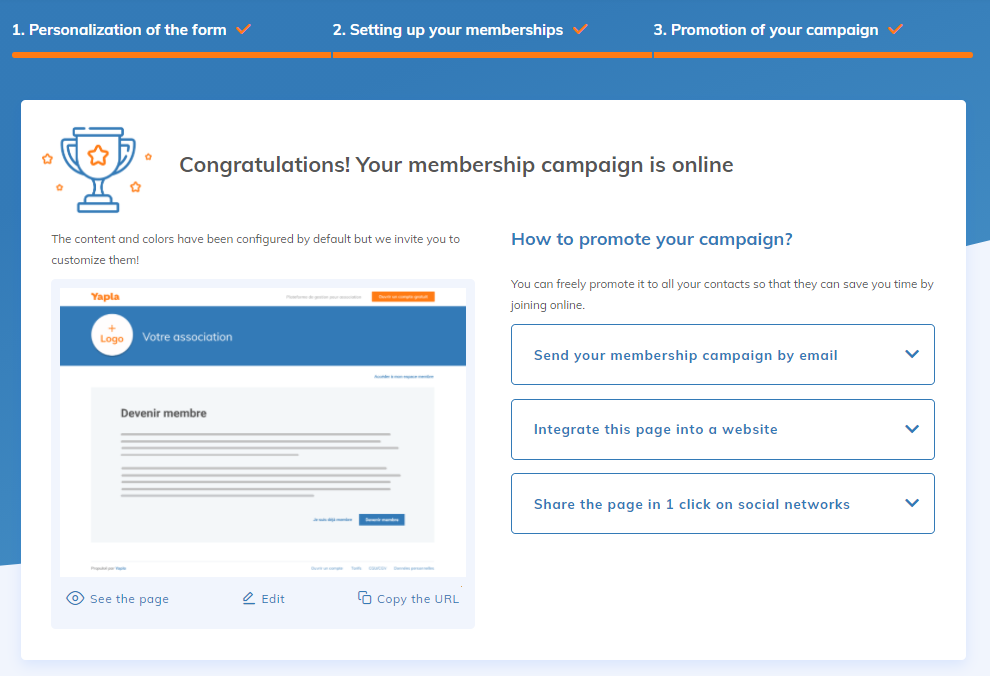 When you click on "Edit," you'll be taken to the page where you can customize the campaign.
Your organization's logo displayed on this page
Page colours
Font used
Note: If you already have a Yapla website, you can use the Member Section module to display and sell memberships, and to activate your member zone.