Once you have added a representative, you may have to remove or change them. There are two ways to change an organization's representative.
Changing the representative without transferring the membership
Choose this option if you do not want to transfer your representative's membership. For example, the future representative already has a representative membership. To make this change you must click on the Change Representative button.

Warning! Only members with an organization membership will be displayed in the search results of your new representative.
Change representative by transferring the representative's membership
This is the most common case, we transfer the membership to a delegate member of the organization when the future representative needs to take advantage of the current membership of the current representative of the organization.
The transfer of membership is only done within an organization and should be seen as an exchange. The representative gives his membership to one of its delegate members and the delegate gives his membership to the representative.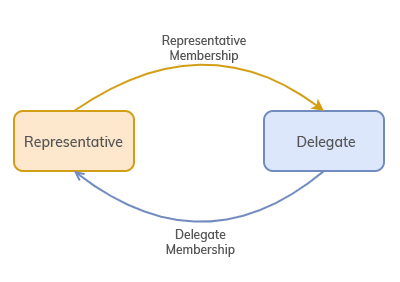 When our members have the right memberships, it is necessary to click on the button "Transfer the membership" of the representative.
Attention! Only members with a delegate membership and already belonging to the organization will appear in the search results of your new representative.