With the Websites application, you can easily create web pages and link them to modules. A module is a graphical component that manages one or more of Yapla's advanced features. It must be linked to a zone on a web page. You can configure each module based on your needs.

When you click on a zone in a web page, a drop-down menu appears where you can select the module of your choice.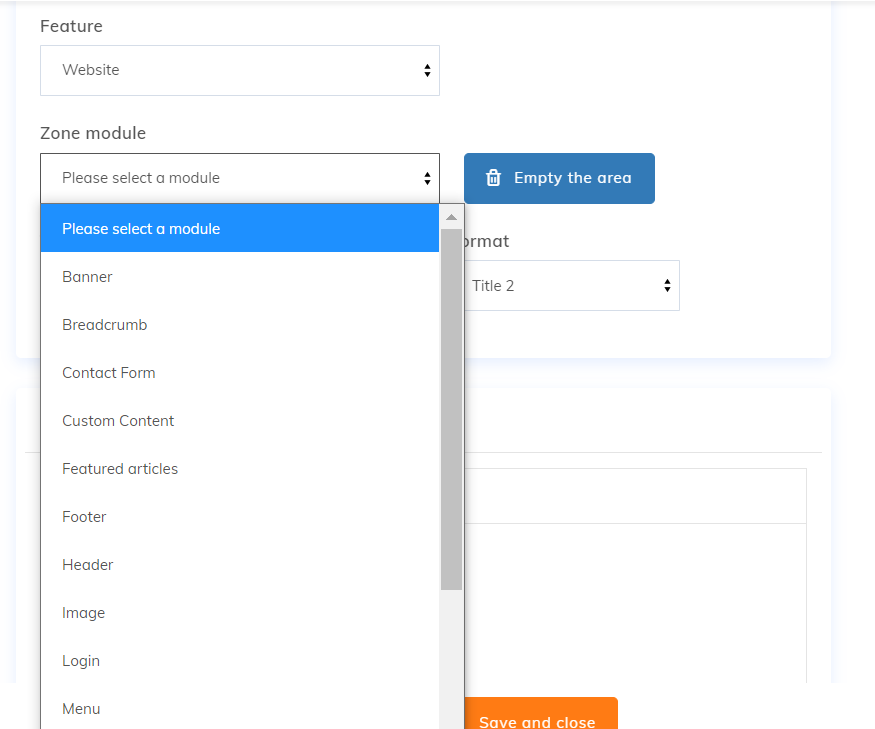 List of modules
Most of the modules work in all zone sizes. However, we recommend putting certain modules in 100% zones. See the column Suggested minimum zone for more details.

| | | | |
| --- | --- | --- | --- |
| Application | Name | Description | Suggested minimum zone |
| Websites | Single article | Displays an article from one or all categories. | 100% |
| Websites | | Display multiple items from one or more categories, with or without a link to the details page. | 100% |
| Websites | Multiple articles | Display a large number of items from a category in different display modes, with or without a link to the details page. | 100% |
| Websites | Banner | Displays a banner image chosen from a list or a customized image, with or without text | 100% |
| Websites | | Displays articles as a carrousel. See video | 25% |
| Websites | | Displays a login module, with or without a link to the details page. | 100% |
| Websites | | HTML editor allowing you to add custom content. See video | 25% |
| Websites | | Displays a header with your logo, social media, or login. | 25% |
| Websites | Breadcrumb | Automatic display of the path taken to get to the page. | 100% |
| Websites | | Form allowing you to send a message to a predefined email address. | 25% |
| Websites | | Displays an image, with or without a link. See video | 25% |
| Websites | | Displays a menu or submenu. See video | 25% |
| Websites | | Zone that allows you to display site error messages. | 25% |
| Websites | | Displays a footer with contact information. See video | 100% |
| Websites | | Displays an activity feed from a Facebook page. See video | 25% |
| Websites | | Adds a link to switch between languages. | 25% |
| Members | | List of members, with a search form and member details. | 25% |
| Members | | Member Section: registration form, login, and profile/membership management. | 100% |
| Members | | Automatic display of x most recent new members. | 100% |
| Members | Global Search | Displays a search engine to search for a member in a given directory. | 100% |
| Events | | Displays one or more upcoming events, with the details page and registration form. | 100% |
| Events | | Short list of upcoming events, with a link to the details page. See video | 25% |
| Donations | | Displays one or more donation campaigns, with the donations form and results in the thermometer | 100% |
| Donations | | Displays the Participants Section module. | 100% |
| Contacts | My Groups | Displays a module to manage a specific group. | 100% |
| Boutique | | Displays a boutique module with the possibility of adding an article from a category. | 100% |
| Data | Entry form | Displays a custom form. | 100% |
| Newsletters | | Collects subscriptions to newsletters. | 100% |