By default, new members of your organization are automatically validated. However, Yapla offers you the possibility to set up different membership management rules to choose the order of registration, payment and approval of a membership if necessary.
The following options are available to you:
The approval mode, which allows you to receive membership applications before allowing the membership purchase process. If this mode is enabled, it applies to all your memberships.
There are 4 membership workflows available:

Type A - Immediate membership without validation (default configuration)
Type B - Membership with validation after payment
Type C - Membership with submission of document(s) and validation (usually for professional associations).
Type D - Membership with validation before payment
Validation processes can be configured in 2 places:
Configure all types of membership
Members / Settings / Membership / Validation process
You can set up the same validation process for all your memberships in one place.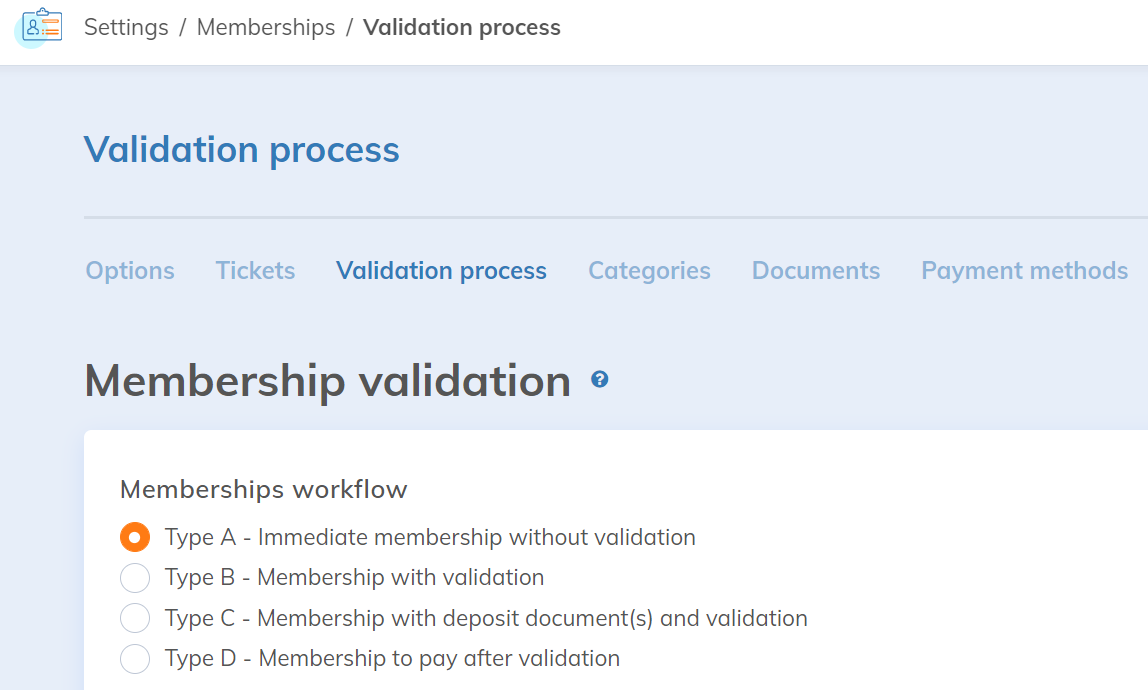 This configuration applies to all memberships that have not been customized.
In this menu it is possible to activate and configure the approval process.

Configure the validation process for a specific membership type
Members / Settings / Membership Types / Validation process
The configuration will only apply to the custom membership type and will take precedence over the global configurations mentioned above.
Select the membership from the list and choose the Validation Process submenu. Check Apply specific validation process to this membership type to see the menu appear and select the desired workflow.