Yapla allows you to cancel a participant's registration for one of your events. Depending on the payment provider, you will also have the option to automatically refund the transaction with a cancellation fee.
Cancellation
When a person has already registered and you want to cancel their registration, first go to the registration in question in Yapla. Select the participant in the registration list to open the "Subscription detail" page. Click on Action, and then select the "Cancel Registration" option.

By clicking on it a window appears that allows you to cancel the registration, giving you several options: modify or not the accounting,
associate a cancellation fee
and refund the transaction, depending on the payment provider.
With a payment provider other than Stripe or Global Payments
If Yapla does not support the refund function for your provider, you will be offered to simply cancel the registration. It is also possible to apply a cancellation fee.
Note that it is always possible to change the amount of the refund fee at the time you take the action via the editable field (if no minimum fee is set, the field will not appear).

This cancellation will have the effect of canceling the registration, as well as reversing the entries (Accounting application) taking into account the specified fees.

If you don't want the cancellation to have an impact on your accounting, you can also choose to check the box that performs the cancellation without modifying the accounting entries.

Refund with Stripe or Global Payments as Payment Provider
With Yapla, it is possible to refund event registrations paid by credit card, if you use the Stripe or Global Payments providers.
You will then get the following message: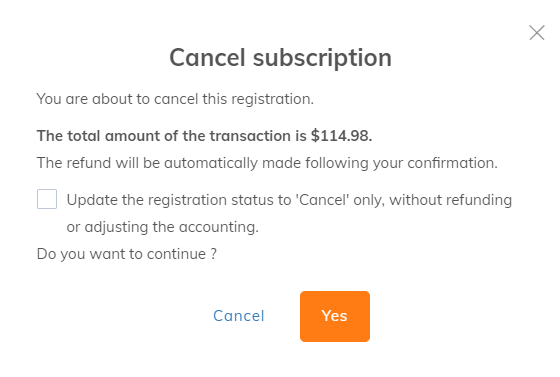 The refund will then be made automatically to the card used for the transaction.
You can always set a cancellation fee and choose to cancel the registration without changing the accounting entries.
Automated communications
Once the operation is done, the communication "Cancelled Registration" is triggered. Here's how to set up the communication.