Your event configuration allows you to limit the number of seats available for the event itself, but you may want to add a limit on specific rates. For example, your venue could have separate sections (Parterre, Balcony, etc) with different rates and a physical limit for each. Or, you could offer a limited number of physical seats but an unlimited number of webcast seats.
Your rate configurations allow you to determine a limit on registrations. In your pricing, check the Limit available quantity box and add the number of seats.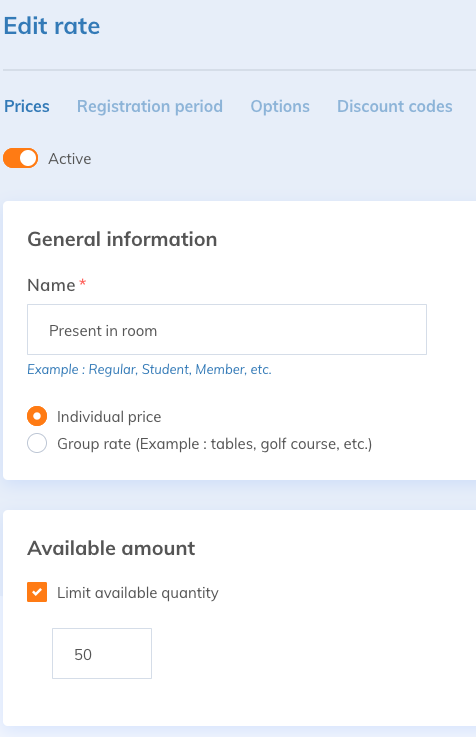 How it works on the site
The rate will be displayed as a normal rate as long as there are still places available. As soon as the limit is reached, the word Full will be added and it will no longer be possible to select this fare.

If all rates are full, it is no longer possible to register for the event.
How it works in your account administration
Via the Yapla back office, you can add additional registrations. However, you will be notified that the limit has been reached.

Frequently asked questions
Can I combine the rate limit with the event registration limit?
Yes, in this case, the first limit reached will be the one taken into account. In other words, if the event is sold out, it will no longer be possible to register even if there is still room for a rate. Similarly, it will no longer be possible to register if all the rates are sold out.
My event is very popular. What happens if 2 people select the last remaining spot at the same time?
First come, first served. The first person to move on will be able to finalize their registration. The second person will get a message saying that the fare is now full and to select another fare.
How does the limit work with group rates?
You can use the limit with group rates. However, you must calculate the limit based on seats, not groups. For example, if you offer 20 tables of 4 people, you should not apply a limit of 20 but rather 80.