When planning your schedule, you may find that some of your events are similar in nature or have repeating configurations. Rather than creating a new event each time, it may be more efficient to simply duplicate an event and change the few pieces of information that differ.
Duplicate and modify an existing event
Yapla allows you to quickly duplicate and modify the basic information of your event to speed up the setup of new events in your Yapla account.
Duplicate your event
In order to duplicate your event, please go to your event list. Once in your list, you will be able to duplicate the desired event by clicking on the gear at the end of the line and clicking on "duplicate".

After clicking, a window will offer you the possibility to modify the basic information of the event that will be created following the duplication. This step will allow you to modify the following information:
Name of the event;
Start date;
End date;
The publication status.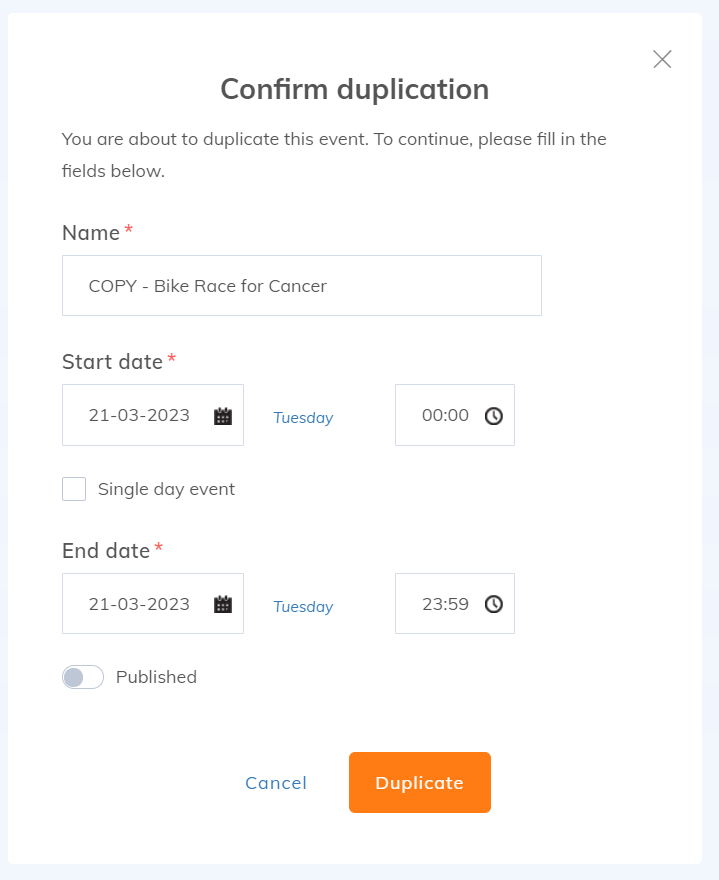 Once the basic information is modified, press "Duplicate" and your new event will be available.
Modify the information of your new event
Once the new event has been duplicated, you will need to modify the following settings to ensure that the event is ready for publication:
Additional event information (image, descriptions, location, etc.);
Registration periods;
Fees;
Communications;
Forms.
Once the rest of the information has been modified, you will be able to publish your new event.
Tips for setting up your events
Here are some tips to help you set up your events beforehand.
Event template
If you often use the same kind of configuration for your events, it can be interesting to make an event template that can be duplicated as needed. The information already contained in this template can be more generic allowing you to quickly add the information specific to this event and save time.
Templates for your different types of events
It is possible to have several event templates, each with a series of rates, forms or communications specific to the context in which they will be used during duplication. For example, you could have one template for events reserved for your members and another for events open to all. It will then be possible to duplicate the event template corresponding to the access of your event.